đánh bạc online kiếm tiền_Cá cược thể thao miễn phí_cách chơi cá độ bóng đá
I am Jennifer Shiman, creator of 30-Second Bunnies Theatre and the other content here at Angry Alien Productions.
I love storytelling.
My passion is developing engaging content viewable across multiple media platforms.
Since 2004, I have created and produced over 90 short cartoons with bunnies re-enacting movies in (approximately) 30 seconds. The award-winning shorts have appeared on broadcast tv, on demand, online and in a global ad campaign.
And for 2018 I launched a Patreon campaign to help fund six new bunny titles! Please consider becoming a patron of the bunnies by signing up here!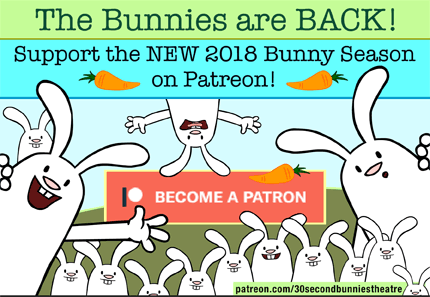 I started Angry Alien Productions in 1998 to focus on content development, digital design and production.
I enjoy distributing creative work directly to a global audience.
đăng ký nhận tiền cược miễn phíClick here for 30-Second Bunnies Theatre in the Media.
I got my graduate degree in Media Studies in 1994 from the University of London Institute of Education.
I got my undergraduate degree in International Political Economy/International Communication
from the University Professors Program (Boston University) in 1991.
Speaking Engagements:
Denver Comic Con (Denver, CO) 2016
SXSW (Panelist. Austin, TX) 2010
Flashbelt (Minneapolis, MN) 2010
Flash on the Beach (Brighton, UK) 2009
FITC Hollywood 2007, 2006
FITC Toronto 2006
Dreamworks Lunchtime Lecturer (Redwood City, CA) 2006
George Eastman House (Rochester, NY) 2005

Awards:
Webby Award 2008 - Online Film and Video/Animation
Webby Award 2008 - People's Choice
2 Gold Lions, 1 Silver Lion, Cannes International Advertising Festival 2006
Best Internet series - Ottawa International Film Festival 2004

Student comic book art classes and workshops I have led:
PORTLAND, OR 2016-17
The Village Free School
Multnomah County Library branches
IRCO (Immigrant and Refugee Community Organization)

CHICAGO, IL
Marwen Foundation
Museum of Contemporary Art

LOS ANGELES, CA
LAPL branches (Sun Valley, Westwood, Wilmington)
Santa Monica Public Library
CENTER FOR CARTOON STUDIES, Grand River Junction, VT
Co-presenter with Scott Dikkers, Animation Workshop. Summer 2011.
Stay posted via social media
- On Facebook:
đăng ký nhận tiền cược miễn phíAngry Alien Productions and 30-Second Bunnies Theatre
*** - Angry Alien FAQ
- FAQ of the Bunnies, wherein the bunnies answer your questions